Introducing Early Learning Central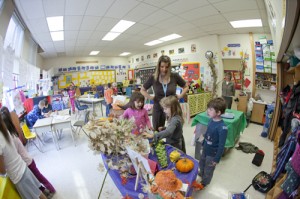 On the educator's role in the primary classroom, ETFO members say:
"The educator does not control the play, rather she provides opportunities for children based on their interests. These are "invitations" that children can take in their own direction."
"As a facilitator of play it is our job to pull small group, spend more time with those students at that centre, provide different tools to explore."
"I feel that the key to knowing when to take on which role is by simply observing the children at play and taking the time to see where the opportunities exist at that given time."
"It is a teacher's job to scaffold, challenge and extend student learning. To make the environment conducive to learning, follow the student's lead. Pose questions to challenging thinking."
Pump Priming:  Educators as "Pump Primers"
Pump priming is a means of stimulating interest and providing focus for self-directed play.
"I think that priming the pump also fits nicely with the idea of the classroom as third teacher, both in terms the physical and social environment. How we add, remove, and replace materials and the decisions we make about how the physical space in the room is allocated shapes the learning (in a good or not so good way) that unfolds in the classroom. Creating opportunities for risk-taking, researching, and experimenting with ideas as well as how safe and welcoming the social environment is supports the above classroom climate."  ETFO Member 
How do we get resources to set up a play-based classroom?  Work with your divisions, share, and talk to your admin, collect recycled materials.
Have a look at how M. Wicks-Hogan used pump priming and completed a classroom layout makeover.
"I really like to introduce materials that are open-ended, multipurpose, and flexible. I think it is important for children to play with scraps of cloth, paper, wood, modelling clay, play dough, wool, etc. It really gives students a chance to access their creativity."  ETFO Member 
"I think I will focus on the concept of PUMP PRIMING-I love this part of my job! It is wonderful to have the opportunity to expose children to new things and I think having different ways of priming children- e.g. field trips, guest speakers, books, videos is a way to meet the needs of different learners and bring learning alive."  ETFO Member