Planning with the end task in mind, deciding how you will assess your students, and what they need to know are many questions teachers ask themselves when planning lessons and units of study.  Backwards planning is what it is.  We work from our overall and specific expectations, think about the 'big idea" or our learning goal(s) for the activities that we have planned out.  This thinking will give you a clear idea of where you need to start and it keeps us focused.  Now, plan for the final product or the summative task.  This could be giving an authentic questions if it is math related, a response to a reading strategy you are working on…etc.
When we begin working on a new unit of study we need to collect information to see where students are at so we can plan what we need to teach.
Diagnostic Assessment is a "pre" task that will give you an idea of what students know or not, before you get started. Example: 
Teachers can choose the assessment tools they need to collect, organize, and record information about the student learning during the unit.  It is also the informal times that we may see learning.  So choosing how that will be captured-camera, recorder etc. may be an alternate form of assessment to keep on hand.
Assessment as Learning is the ongoing monitoring of student progress, allowing for feedback, changes/tweaking, and adjustments or whatever is needed to give the students a clear understand of how they can improve.  Example:  This can be done in small group, with descriptive feedback, conferences, written exchange of dialogue, oral conversations, etc.  This may be a time when the teacher needs to provide mini-lessons to fill the gaps in learning to make the students successful. 
Here is a link to an article on formative assessment http://earlylearningcentral.ca/wp-content/uploads/2009/02/Research-for-Teachers-Number-2-Formative-Assessment-article-nov-2010.pdf.  Formative assessment assists students making them successful by giving suggestions for improving learning rather then just judging.
Summative Assessment is the final task at the end of the unit where students show their final learning.  This can take a variety of forms and should allow for students to show their learning from a variety of tasks.  Some students may want to choose to illustrate their learning through a visual-drawing, artwork.  Some may need to display in an oral conversation, a play etc.  Giving students different assessment strategies based on their learning styles and needs, will engage students and give them other options to display their learning.
Here is a full link on ELC around assessment http://earlylearningcentral.ca/?page_id=2234

Focusing on the classroom environment is important in engaging students.  It tells them what is valued, what is important in learning and it will certainly set a tone for learning.  As I return to my classroom I am reflecting on what has worked and what hasn't and other ways I can give students opportunities to learn new things. 
For example, more computer access to seek information on our inquiry projects, adding mirrors to our light table area, looking at my shelving space and how I can organized various materials to make things more appealing to my students, and creating more centres of inquiry.   With all this happening, how can I better assess my students through documentation.  I created a new form that my ECE partner and I can track conversations in a more organized fashion and we can simply slip the forms into portfolios as opposed to always typing the information out.  I also gathered more clipboards to have at each station and labelled these as our documentation boards.  
Here are a few photos of centre idea where children can be creative. 
This is a great little centre that focuses around found materials.  Students can develop their fine motor skills in connection to math or art.  The mats are earth tone in colour and are used as a different surface for children to create.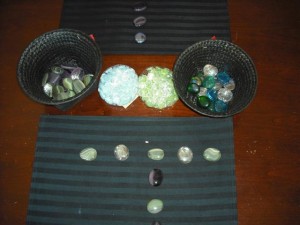 This centre idea uses material found at the dollar store.  There are jewels and stones of different colours that you can place in different baskets sorted by colour/shapes/size its up to you.  You can use placemats, black felt, photo frames that students can use to display their different art pieces.  Again, you can connect to math and a great oral language opportunity for the children.
Here are some pictures of one environment http://earlylearningcentral.ca/?page_id=2138 to get you thinking about your space.  Reflective Questions:  What do you do when the environment is not working for your students?  How can you place materials that will engage student learning?  How can I document student learning and display it?

Now that the you have had the opportunity to meet your students over the last little while, you can reflect on your daily schedule.  Thinking it Through has a plan for both full and half days.  http://earlylearningcentral.ca/?page_id=1218 .  Some things can't be changed due to the large schedules within your school,  but you can always try to move things around if they are in the best interest of your students.  Many schools are on the balanced day program with 3, 100 minute blocks of learning.  I always ensure that my students get 60 minutes or more in one of those blocks, and a second block of about 45 minutes.  The reason behind the time frames is to allow the children to explore the centre, select materials, create/manipulate, think and change, discuss, and share their learning without having to rush.  They are learning how to learn!
During these next few weeks circulating the room with children would be a great opportunity to discuss with them what is available in each centre, behaviours, and routines.  Remind them daily of what is available. 
I personally do not designate where children should be nor do I have number limits.  Children move freely to different centres as it sparks their interest.  My ECE partner or myself will call children over to work in small groups during this block of play the other circulates, documenting and asking questions as they pertain to our goals or big ideas for the centre.  All children are responsible for the entire room clean-up.

When thinking about your classroom organization for the students attending in the next few weeks, the Thinking it Through document -Learning Centres booklet starting on p.9 makes some great points to ponder when reflecting on your classroom set-up. http://earlylearningcentral.ca/wp-content/uploads/2012/08/TIT-aug-8.pdf
 The classroom should be warm and inviting to students, and the Reggio Emilia approach is to have the classroom serve as a "third teacher". 
the environment reflects our values as teachers, and informs and shapes the kind of learning that will happen
consider positioning of centres (loud vs quiet), flow
include natural materials as much as possible-in my science centre I have pine cones, rocks, twigs, leaves just a few to start off and then the children will be responsible to help build this centre
think about large and small groupings-tables in my classroom  are incorporated into centres as well as for snack.  This way they have a multi-purpose and it reduces the amount of large furniture.  I also have no desk, but I have 2 filing cabinets one for my daybook and supplies and the other for files.
p. 15-17 poses some reflective questions to consider in classroom set-up
starting on p.32 some recommended learning centres are listed discussing there purpose, observation pts, material lists, furniture, and a suggestion for location.
In our classroom, my ECE partner and myself think about making it a "home like" environment where the walls have little commercial bought products, but picture frames handing where we will eventually display children's art work.  I purchased a few plants, we are going to add some lamps to create a cozy feeling in our reading corner, and last year we had some birch branches cemented into flower pots and strung with white Christmas lights to add that outdoor feel to our science centre.  In the first few weeks we have just enough materials out, so that we can observe, establish routines in the classroom, get to know the children and their strengths, and to see what they need to develop their learning.  Some centres are permanent like building, but the items within it will change.

     Starting school is an important step in your child's life, as well as yours.  For both of you, it can be exciting, and scary.  Remember that this is a big event, and help support your child in their new adventure.  This can be true for older children as well.  They have had the summer off, and some children might be anxious about going back to school in the Fall.
     Here are a few tips that will help you get your child ready for that first day of school.
Take a tour of the school. Before the first day of school, visit the school with your child so that the building and playground become familiar. If you have access to inside of the school, take your child to the classroom he/she will be in for a quick tour.  Even if you had a tour of the school in the Spring, it is a good idea to do it again just before school starts to remind your child of where everything is.  This can also give your child a feeling of security and confidence for that first day of school if he/she is re-familiarized with the school.
Get into a routine. About a week or so before the start of school, begin putting your child to bed at a normal time for a school night. For a week before school starts, be sure your child then gets up, dressed, and fed like a regular school morning. This is a good idea for children who are just beginning school, as well as older children who might need to get back into a routine before that first day of school in the Fall.
Practise sharing. Give your child all kinds of opportunities to be with other kids, to learn to share, wait, and take turns. That's what school is all about.
Teach the importance of listening. School means being able to listen. Kids need to understand and practise listening, things like: look at who is talking, don't interrupt, and think about what is being said. Modelling these skills are a great way to show your child what listening means.
Learn at home. Include learning in your child's everyday life. For example, a child can practise by reading package labels or weighing produce while shopping. Read to your child. Play word or counting games.
Develop your child's motor skills. Children need daily physical activity. Give your child every opportunity to exercise and develop larger muscles by running, climbing, playing with a ball, etc. Smaller hand muscles can be strengthened with playdough, scissors, painting, and crayons.
Encourage communication. Oral communication is very important.  Encourage your child to communicate with the other students, as well as the staff at the school. Give your child the confidence to ask questions in all situations. Let your child know that it's OK to tell the teacher if something is hard to understand, or if they are uncomfortable in any situation.

Making learning English as fun as possible can be vital for children.
Social activities with native English-speakers provide a relaxed opportunity for your child to hear English without the pressure of having to speak it. Participate in casual activities like dinners, barbecues or parties with native English-speakers on a regular basis. Allow your child to interact with both children and adults who speak English so your child can become more comfortable and less self-conscious in English-speaking environments.  Set up play dates with other children who speak the same primary language as your child but are also learning English as a second language.
Make-believe is part of development for children. Children can be remarkably inventive and imaginative and they love to create fantasy worlds .  They also use drama to recreate situations in their lives and to deal with everyday emotions.  Children can use their imagination and feel more comfortable using the English they know in a dramatic play setting.
Other ideas to help make learning English more fun are:
• storytelling
• visual teaching aids like short films, photographs, posters and pictures
• drama, dialogue and poetry
• songs, music and rhymes
• dance and movement
• games and manual activities