I have found a great book called:  Beautiful Stuff Learning with found materials.  It is a great resource to get a collection of found materials started in your classroom and a great springboard to spark an inquiry or 2.
My finding came at a great time! We have been working on the reading strategy, making connections and many of my students could not remember a birthday or have never experienced one so my ECE partner and I decided to create one.  The students have been listening to Junie B. Jone stories all year so we wanted to have a birthday for our character.  We planned and touched on all aspect of a birthday.  The resource, Beautiful Stuff, became the "gift" the children would bring to the party.
The book begins discussing what recycled materials would be useful to collect from children's homes. Things like; paper, old jewellery, buttons, ribbons etc.  They bring them to school in a bag for exploring in small or large group.  The book explores the materials and shares the dialogue between teacher and students, tells about the sorting processing, and gives some great prompts to move the thinking and investigating along.  Other chapters discuss building with wood pieces, collaging, and various other ideas that could extend what you can do with all the found materials.
Our Beautiful Stuff has lead us into a Building Inquiry, an Art Inquiry, we have used the items to extend into our Math Focus and Fine Motor for sorting.  As well, building on oral language.
The found materials have now become my art centre.  The children initially sorted all the materials into baskets, trays etc.  Each day they can access the materials to create.  I may add new items, give a lesson about something new they can do with the materials, I added more popsicle sticks and large cardboard on day, another day I added the paint.  They tied it into our building inquiry.
Below are a few pictures of the children first exploring, then creating with the materials.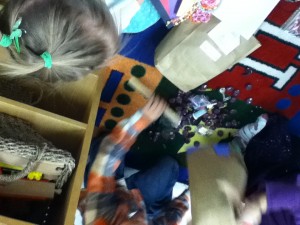 These children are showing what they have collected for the first time in small groups.
 This child created a house using the real wood pieces.  He is also drawing out the structure like an Architect. With adult assistance children are trying out real tools.
Below the children have creating pictures with the materials.

A "non-turkey" Thanksgiving art activity is to create a Thanksgiving Tree.
To make a tree for your classroom, put up a large tree trunk with branches somewhere in your classroom.  Have each child trace their hand on a Fall coloured sheet of construction paper.  Once the students have cut their hands out, have them write their name and one thing that they are thankful for.  These handprints are your leaves for your tree.  You could also give each child their own individual tree and have them draw and colour their own leaves on and then write what they are thankful for on each leaf.

A few people have requested art ideas for Thanksgiving that are not turkeys.  Below are three example of  activities.
One idea we use is to tie in healthy food to Thanksgiving.  Usually, there is alot of focus on family dinners at this time of year.  We collect grocery store flyers, and have children cut out pictures of healthy foods they would like to eat at Thanksgiving.  We then have the children use these pictures to glue to a large piece of paper.  Once it is dry, we either mac-tac it, or laminate it (depending on available resources) and send it home as their placemat for Thanksgiving dinner.
Another idea for Kindergarten (one you could use in any primary grade) is to have pumpkin seeds in your art centre.  The children can create pictures with these, or for older students, you could have pre-made pictures they can glue the seeds to.  To make the seeds more interesting, you can colour them with food colouring.
Finally, you could have dried leaves in your art centre.  The children can do leaf-rubbings to create beautiful Fall pictures.  These can also be laminated to send home as placemats.

A fun fall activity that I did with my students late in the month of September was a leaf activity. The ideas ties in with our community and observing the world around them in nature. Children were responsible to collect leaves of any size, shape, and colour from around their neighbourhoods.  We displayed them on our light table and placed paper and crayons for the children to create leaf rubbings.  It really sparked some discussions around why leave change colours, what kind of trees they came from etc.  So I added some books to the centre about leave, and their colours.  It was a great conversation and it allowed me to work with children and show them how answers can be found by reading in a book.
Later, I read the book:  The Leaf Man by Lois Elhert.  This book was selected to spark/inspire a creation of a leaf person.  Children collected other outdoor materials like-rocks, sticks, flowers, pine cones to add.  On Dollar Store cookie sheets students placed their materials and created a person.  I took a picture of them and their design.  After I asked them questions and I recorded the children's thought about their leaf person.  Some told me about what they used, some gave them names and told me be about family.  I typed up the information and posted the picture along with the write-up on construction paper and hung it around our classroom.  The children loved seeing themselves in the classroom and loved talking about what they created.  It was so cute and this simple activity sparked so much discussion building on their oral language skills!

Because we had been making flowers for Mother's Day last week, there were several children asking if we could make flowers again today.  Instead of repeating the same activity with the handprint flowers, I wanted the children to be able to create a different flower.  I decided to create tie-dye flowers instead.
I got large basket coffee filters.  I find these great for art, so I always keep them stocked in a cupboard.  I also got out 3 paint holders, eye droppers and food colouring.  I covered the table with plastic.  I filled each paint holder half full with water and then added food colouring to the water.  I added several drops of the food colouring to make sure the colours were strong.  I used red, blue and yellow, but you could use any colours you wanted to. 
I then gave each child at the table a large coffee filter and a black marker.  I had them print their name near the edge of the filter.  Once their name was printed, they filled the eyedroppers with coloured water and dropped it slowly on to their filter.  They continued this until the entire coffee filter was full of colours. 
Once the filters are dry, I assisted the children with twisting them in the middle and wrapping a green pipe cleaner around them as the stem.
This activity is fun, and not only does it allow the students to get creative, but they get to learn what colours are made when colours are mixed.

We wanted our children to create Valentine's for their friends.  But, we didn't want them to have to make ones that looked like a pre-made craft. 
So, on Monday, we set up 2 art tables.  We put heart stickers, foam hearts, doilies, red/pink/white/purple/black paper, markers, glitter and glue out.  We had some pre-cut heart shapes, some hearts drawn for them to cut, and we also had cardboard hearts that they could trace.  Once the children made a valentine, they had to print "To (name)" and "From (name)" on it, and then put it on our art drying rack.  We had these tables set up for our first 100 minute block and again for the last 45 minutes of the day. 
Then, on yesterday, we gave each child the Valentine(s) he/she made.  Each child had already decorated a bag for their cards, so we helped them deliver them to whomever they made it for.  The children took pride in what they had created for their friends.

To continue our Full Day Kindergarten's focus on nutrition, today we painted with vegetables!
I brought in 2 potatoes, a cucumber, a carrot, a green pepper and a red pepper to class today. I cut them in half (the carrot I cut into thirds) and we used these like paint stamps to create a collage of healthy vegetables.  I used large foil pie plates to put the paint in.  Once the paintings were dry, I hung them up in the hallway so the rest of the school could see our beautiful art.
Another way you could do this art project is to use fruit.  Next week, I will take in apples, pears, nectarines and a few strawberries and we can repeat the activity.  Hopefully the children will like it as much as they did today!

It was such a beautiful day today that we decided to go on a nature hunt.  We collected pine cones, leaves, rocks, and anything else the children thought they use in the art centre.  We brought everything in and sorted the items into bins (this part was an excellent math activity).  I then let the children decide what other art supplies we would need to create a new art centre (this promoted co-operative play, and turn-taking).  Once it was all set up, the children loved creating their own art with everything we brought inside. 
Some children painted large rocks.  Some children made leaf collages.  Others painted pine cones.  Each child who went to the art centre created their own unique work of art with the nature we gathered from outside today. 
Tomorrow, we are going to put some of the art up on display to show off our kindgarten students' creativity to the school!