Focusing on the classroom environment is important in engaging students.  It tells them what is valued, what is important in learning and it will certainly set a tone for learning.  As I return to my classroom I am reflecting on what has worked and what hasn't and other ways I can give students opportunities to learn new things. 
For example, more computer access to seek information on our inquiry projects, adding mirrors to our light table area, looking at my shelving space and how I can organized various materials to make things more appealing to my students, and creating more centres of inquiry.   With all this happening, how can I better assess my students through documentation.  I created a new form that my ECE partner and I can track conversations in a more organized fashion and we can simply slip the forms into portfolios as opposed to always typing the information out.  I also gathered more clipboards to have at each station and labelled these as our documentation boards.  
Here are a few photos of centre idea where children can be creative. 
This is a great little centre that focuses around found materials.  Students can develop their fine motor skills in connection to math or art.  The mats are earth tone in colour and are used as a different surface for children to create.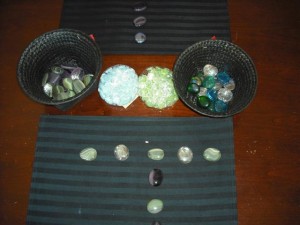 This centre idea uses material found at the dollar store.  There are jewels and stones of different colours that you can place in different baskets sorted by colour/shapes/size its up to you.  You can use placemats, black felt, photo frames that students can use to display their different art pieces.  Again, you can connect to math and a great oral language opportunity for the children.
Here are some pictures of one environment http://earlylearningcentral.ca/?page_id=2138 to get you thinking about your space.  Reflective Questions:  What do you do when the environment is not working for your students?  How can you place materials that will engage student learning?  How can I document student learning and display it?